Recent discussion on the passenger car list about operating diaphragms - or "pongers", if you are open to alternative nomenclature - prompted me to shoot a few photos of recent experiments. I don't expect this will change anyone's mind about their favorite approach, but will hopefully show the results of my recent trials and partial successes.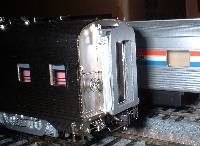 This is an American Limited plastic ponger, of the "Walthers" variety, designed to fit the Walthers Budd cars. Here it is applied to a Coach Yard 1937 Chief sleeper. The CY Chief car set is supplied with the typical cast brass pongers, but they are not installed leaving the modeler some choice rather than having to take a torch to a $500 car.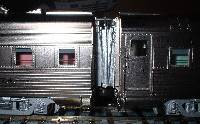 Here are two of the Coach Yard cars fairly close coupled, with the American Limited pongers in very slight compression. The Coach Yard coupler mounts can be coupled a prototypical distance, but that would leave room for barely one of these pongers - much less two. And at that distance, minimum operating radius is at least 36" based on my failed experience of them on 790mm (31") Kato curves. As you can see, they nicely fill the gap here.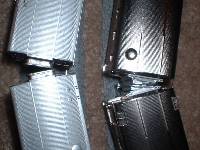 This is where you separate the successes and failures - on the curves. Notice how nicely the Am Ltd. pongers hold together on the curve, while producing no unwanted skew forces. They also slide apart and back on reverse curves and crossovers without snagging. Compare to the stock Walthers pongers on the adjacent track. These are not the classic folding bellows Walthers part, but the one piece plastic ponger that comes with the Walthers new series of lightweight cars. As you can see, I have set up my coupling distance to keep them from compressing on curves - they simply have too much springing. The springing can be reduced, but the Walthers pongers are crude and IMO will be better served by replacing them with the American Limited parts made for them. More on that, but at the moment I've used up all my Am Ltd. parts and I'm waiting on my LHS to get me some more.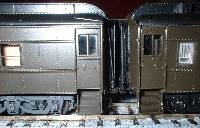 The Branchline heavyweight cars recently released have a new design that combines elements of the American Limited design with a few new tricks. The diaphragm is in 3 pieces, rather than telescoping, or using a paper/cloth bellows, it consists of an inner and outer frame pinned together in the center. This allows the outer plate to pivot on a vertical axis, but not compress. A separate part snaps between the two, representing a fold in the bellows - but it "floats" allowing the outer plate to pivot. Here are two Pullmans I have set up with body mounted #58 couplers, and this is how they appear "stretched". Clearly a gap between them.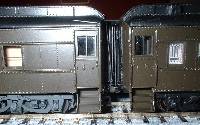 The look is quite good, but there is no actual compression - the pongers touch or they don't. Here with the slack compressed, the plates barely touch. This is as close as I can operate the cars with the 31, 28, and 24" radius curves on the Kato Karpet Route. But I reserve the right to modify the mounts at some future point if I find a better way.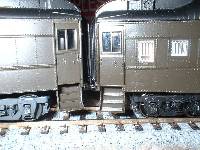 This is what the cars look like in a 24" radius curve from the side - the edges are touching, so they look ok other than the obvious severity of the curve.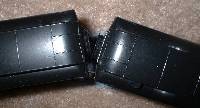 No hiding the outrageousness of even a modest 24" radius curve in this overhead view. 80' cars look like a jackknife in this situation - you can see how the pongers behave pretty much like solid parts, rather than compressing.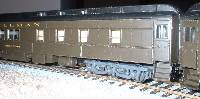 Even without the pongers in compression, notice the closest wheel in this photo is lifting off the track. These cars run fine in this curve... and they are doing so as I type this, but this photo reveals what casual observation did not - that the cars are at their absolute limit of tracking. I don't advocate running 80' heavyweight cars around curves this tight, but this shows it can be done - and with body mounted couplers. I see no advantage to swinging couplers, and I believe they introduce the same unwanted lateral forces that compressed pongers exert, and they do more harm than good.
Back to My Models